AFFILIATE LOCATIONS
In tandem with our expansion of branded locations, the Flywheel Foundation is assisting cities and counties that want to implement their own innovation and entrepreneurship centers. There is significant inbound interest in this program, and we see it as a way to accelerate the development of our network while generating service-based revenue for the Foundation.
This project is aligned with our Foundation's mission, vision, and values and is ideally suited to join a growing network of partner communities with whom we are working to energize economic development through entrepreneurship and implement coworking Innovation centers. The Affiliate Program has five service bundles outlined in the following scope of work:
Strategy Development for Ecosystem Building
Coworking Innovation Center Design and Development
Operational Playbook for Implementation
Entrepreneurial Support Resources – Programs, Events, Capital
Reciprocal Membership Throughout the Flywheel Network
The first affiliate location is opening this month in North Wilkesboro, NC. Called The Masthead, a nod to the Wilkes Journal-Patriot building which was renovated as a coworking innovation center, this project is owned and operated by NC Tech paths, an innovative non-profit focused on creating regional tech offices in Wilkes county for major corporations. Flywheel's partner company Workplace Architecture and Design prepared the space program, interior design and construction documents, and Flywheel staff assisted with setting up operations and staffing.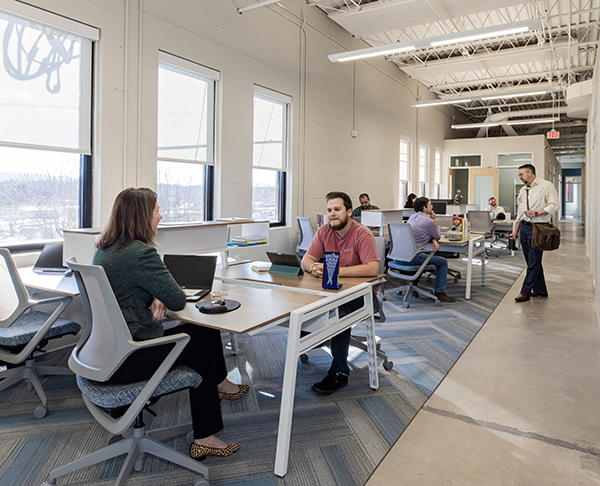 The Masthead
A Flywheel Affiliate
North Wilkesboro, NC
The Masthead
711 Main St., Suite 103
North Wilkesboro, NC 28697