FLYWHEEL INNOVATION COMMUNITIES
The Flywheel Foundation executes its mission through a network of purpose-driven innovation communities in the Southeast. Flywheel provides the affordable place and community infrastructure where startups and entrepreneurs flourish.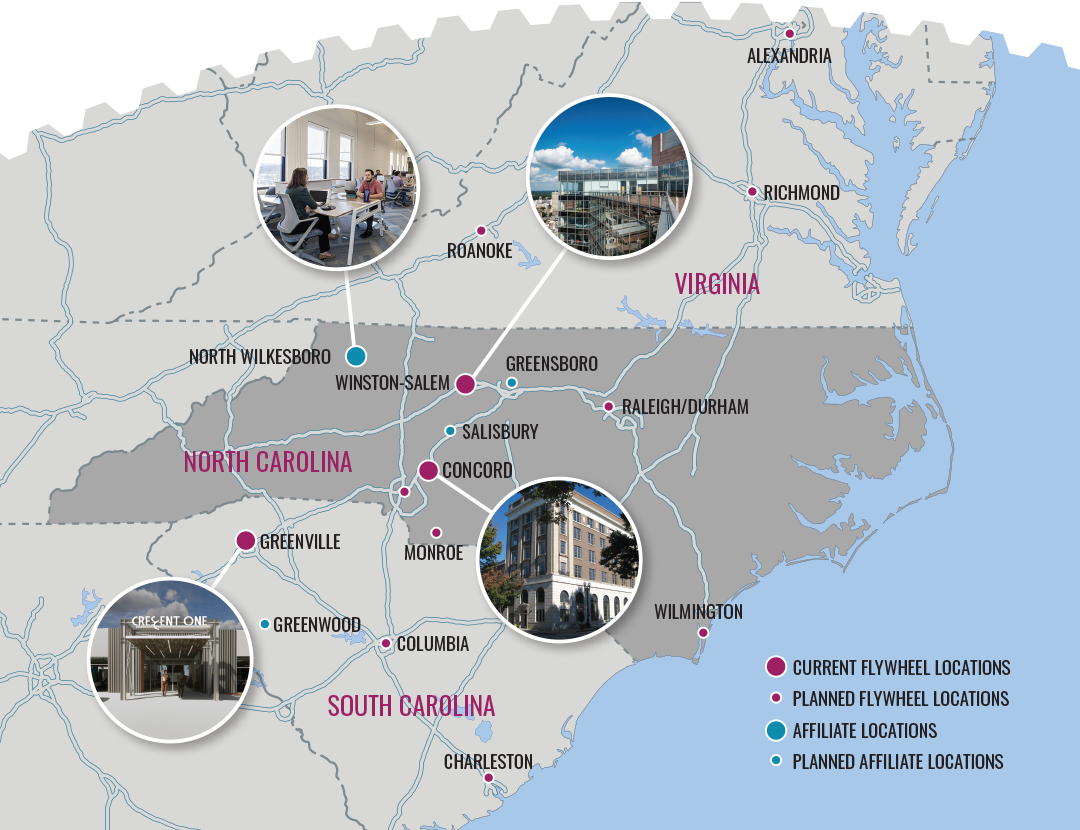 Regional Locations
Flywheel designs and operates coworking innovation space in partnership with premier educational institutions and local community partners. We currently operate in the Triad Region of North Carolina served out of Winston-Salem, Greater Charlotte / Cabarrus served out of Concord, NC, and Upstate SC out of the Crescent Startup Community in Greenville, SC. Additional projects are in development in Lexington, NC, Greenwood, SC and North Wilkesboro, NC.
Our network will continue to grow throughout the Southeast in mid-size and smaller cities that have the right ingredients and community support for early-stage entrepreneurs.
Stimulating Entrepreneurship
The Flywheel Foundation enables an active coworking innovation model to build member communities and stimulate entrepreneurship – and that's important. Our model helps college and university entrepreneurship programs engage with our co-located companies and programs. We actively assemble Entrepreneurship Service Organizations (ESOs) as resident program partners under one roof to efficiently deliver resources and capital.
Purpose-driven Communities
At Flywheel, we're passionate about building a purpose-driven community among our members. Our coworking culture helps our members develop personally and professionally. We are actively involved – not only providing the affordable, flexible space and amenities, but more importantly helping members accelerate their success through curated social and professional development events.
That's our purpose – to make a difference for the entrepreneurs we serve, to help them succeed, and to create an environment where new ideas flourish, get market traction, find customers and become new projects and businesses.